Dimensions Construction Services: A property manager's best resource
Property managers face an irrefutable fact almost every day they report to work: their property management responsibilities can feel like nothing short of a thankless task. Between balancing the needs of prospective residents and existing tenants and addressing the litany of repair, renovation, construction, remodeling and maintenance concerns that seem to spring up like weeds through the sidewalk in the middle of summer, there isn't an easy solution. Add the inevitable challenge of finding a reliable resource capable of conducting the necessary repairs – and satisfying tenants in the process – and it's easy to offer a sympathetic pat on the back to these beleaguered property management professionals.
Fortunately there's a proven, effective solution at hand standing ready to address these issues and many more, in the form of Dimensions Construction Services. The Royal Oak, Michigan-based multi-service construction firm has an established reputation for being utilized as the go-to source by property management firms when issues arise. Perhaps there's an apartment complex in Oakland County's Troy where entry way steps are crumbling and dry wall in a public hallway needs to be replaced. Maybe there's a condominium complex Macomb County's Roseville facing a massive window replacement project after a major storm blew through. Possibly multiple Wayne County tenants in a Detroit development have expressed a need for electrical repairs and plumbing upgrades after repeated shorts, leaking toilets and other interior issues in a historical development. DCS can quickly address any of these issues and more that satisfy not only residents, but property managers too with a stress-free approach to getting the job done.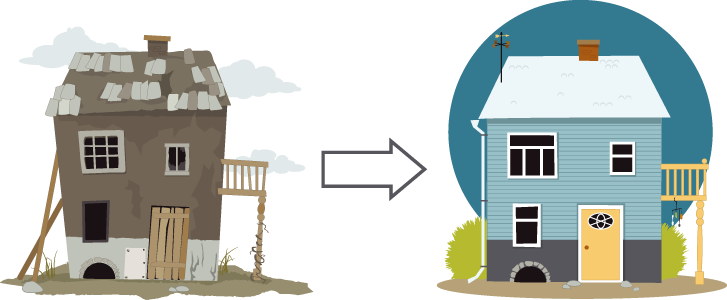 "Since our founding of Dimensions Construction Services in 2015, we've quickly noticed many absentee landlords turning to property managers to reliably address the day-to-day challenges that come with tenant satisfaction," said Patti, owner of the Royal Oak-based company. "I think the biggest thing that separates us from the competition is our ability to first listen carefully to the needs of our clients, then to do the job correctly. That dedication to detail might place some extraordinary demands on our DCS team, but every one of the family members and friends forming our staff is willing to go the extra mile to ensure complete customer satisfaction."
Patti shared a recent experience when a prospective client approached her company, exploring the possibilities for Dimensions Construction Services stepping in to handle the sizable renovation needs of a property manager in southeast Michigan. Following conversations, the potential business partner ultimately opted to turn to a friend instead. Several days passed. Then, the call for help arrived on Patti's cell phone late in the evening. That property manager's friend had realized the undertaking was far too much too handle, and had abruptly exited the project. Working nights and weekends on short notice to get the job done properly, DCS effective assistance highlights property managers' needs for a reliable construction resource, as well as the firm's knack for rising to – and exceeding – expectations.
"Our faith in our customers is reflected in the way we do business," Patti added. "We've always believed that if we go above and beyond the needs of our property management clients, it will provide a mutually beneficial relationship for the long-term. We're thankful for our existing clients, and we're always prepared to grow."
See what Dimensions Construction Services can do for you