From the ground up with Dimensions Construction Services
"Watch where you're walking." It's one of the oldest adages in the book; probably something we've all heard on more than one occasion from our loved ones as we grew up. It is wise advice for helping youngsters avoid trouble, and a piece of wisdom every homeowner should remember, too. That's because when guests come into your home, it's a certainty the first thing company will see is your floor, for better or worse. Can you comfortably make eye contact afterward, or will you be hanging your head in shame at a shag carpet that went out of style a decade (or three) ago? If your home floors aren't a point of pride, the Royal Oak-based Dimensions Construction Services (DCS) might be able to help.
"New flooring can completely transform any room in a home," said Patti, Dimensions Construction Services owner. "People often think putting a new coat of paint on the walls can make the biggest difference, but in reality flooring is the most prominent aspect of a home. It's where your eyes are naturally drawn when you step into a room. And really, everything looks better on good floor; it's an element that can open up the room."
Perhaps you're looking simply to replace some old, cracked linoleum in the kitchen with new tile. Maybe it's the question of removing carpet from the family room in exchange for an appealing hardwood surface. Regardless of the size of the project, DCS professionals can quickly transform a home by installing ceramic tile, hardwood, wood laminates and much more, while minimizing disruption in the home. After all, who wants to spend two months enduring a complete flooring make-over when it can be done in a matter of days?
The DCS team typically turns to a high-end flooring supplier trusted for safe, quality products. Customers uncertain about their flooring options can trust in DCS to arrive at your home with product samples long before the installation process begins. It's important to note that customers also have the ability to select products from a supplier of their choice, and the DCS professionals will obtain the flooring materials from that client-selected supplier.
"There are so many flooring options available, and it can be a daunting process choosing the right look for your home, with most flooring options capable of looking good even in the highest-traffic areas of the home for many years to come," Patti added. "We want our customers to be proud of their floors in the short term, and over the long haul. That's why we're prepared to offer suggestions and help guide customers in selecting what's right for them."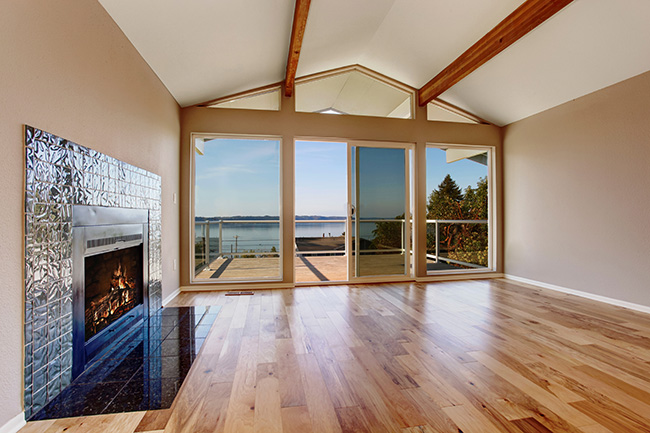 Here's what some of Dimensions Construction Services had to say – in their own words – about flooring services provided by the company:
Kevin K. (Washtenaw County)

– "Contracted team to remove exterior tile and replace with a new porcelain tile. Vince was prompt to examine, quote, begin work and complete quickly. I could not be happier!"

Lisa H. (Wayne County)

– "Vince installed wood laminate flooring for me at my home. I'm very happy with the finished job; he was very professional, on time and very courteous and friendly. I would recommend him very highly!"

Perissa B. (Oakland County)

– "I would highly recommend Vince to complete any home improvement project. Their professionalism and courtesy have exceeded my expectations. Dimensions Construction is by far the best contractor I have every worked with! Thank you!"

Bia H. (Wayne County)

– "Vince did an excellent job. He installed pre-finished hardwood floors in my living room and dining room. He matched up the new floor with my existing floor perfectly. I would call him back again."
See what Dimensions Construction Services can do for you