In the backyard with Dimensions Construction Services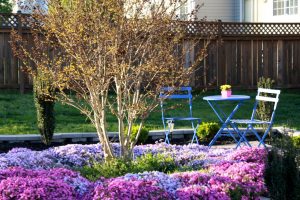 Dimensions Construction Services, based in Royal Oak, Michigan has earned a solid reputation – spread by word-of-mouth, not an advertising budget – for delivering a wide range of interior and exterior home construction, renovation and repair services on-time and on-budget. The family-owned business under the guidance of husband-and-wife team Patti and Vince serves clients throughout southeast Michigan, including the counties of Oakland, Wayne and Macomb. Swinging hammers is only the tip of the iceberg in terms of the variety of professional services the Dimensions Construction Services (DCS) crew can provide to customers where the home front is concerned. The team is equally skilled outside the front door.
"When we launched Dimensions Construction Services, it was with one simple goal: Offering a full range of services to our customers, allowing the convenience of scheduling and working with one company where home services are concerned," said Patti. "A customer shouldn't be forced to rearrange their life to accommodate a separate roofer, flooring company and mason for three separate projects when we can meet all those needs with the same level of skill. That thinking process is the same reason we can assist clients with their backyard needs. We're not landscapers, but we are the go-to source when it comes to maintaining or creating in our clients' yards."
Services offered by the company span both the front and back yards, along with all the points in between. When unattractive (and potentially dangerous) cracks form in the driveway and quickly sprout weeds, these potential trip-hazards can be quickly addressed by the DCS team. Visitors – and home insurance companies – equally appreciate the removal of these miniature San Andreas Fault lines. Repairs can also be quickly made to sidewalks, brick paths and porches.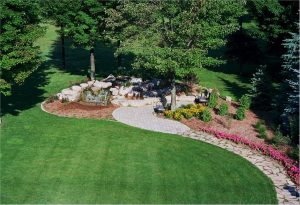 Not surprisingly, the company not only repairs these yard elements; Patti's and Vince's crew can also build these features from the ground up. Patti is a porch enthusiast, inspired in part by Vince's extensive masonry experience. "A porch allows you to subtly add living space to your home, because the porch provides a perfect outdoor gathering place for entertaining guests. Add some wicker chairs and flowers, and that's a comment on your personality."
The company is prepared to plant or remove small shrubs and trees, install brick pavers, pour concrete, add or remove fencing of all styles from decorative or vinyl to privacy, construct brick fire pits, create outdoor enclosures (like a sun room or conservatory) to add more living space.
"We've found that customers with pools generally ask us about installing fences, which is a great step to take especially if there are pets and children in the home. That fence is an added safety measure," Patti said. "You're potentially protecting not only yourself, but the safety of others, too. And any yard home improvement projects can make home ownership a bit more enjoyable when you're out in the sun, enjoying it. "
Here's what a Dimensions Construction Services customer had to say about their back yard repairs experience with the company:
Tijuana C

.

(Wayne County)

– "I contacted them to repair my fence. When Vincent was out to my house, he noticed the cracks in my driveway. Vincent was very friendly, prompt and courteous. The prices for both jobs were very reasonable. I would definitely recommend and use them again."
See what Dimensions Construction Services can do for you